Paying Subscriptions
Our preferred method for paying subscriptions is via Virgin Money Giving as they will collect Gift Aid for us. Gift Aid allows us to claim an extra 25p from HMRC for each £1 of subscriptions paid.
The subscription is £30 per member per term so we can claim £7.50 in Gift Aid on that amount. A member can be a beaver, a cub or a scout.
Please click on this link to start - Pay Subscriptions.
When to you get to our Virgin Money Giving page this is the screen you will see below. Please supply the following information. This information is private and will only be visible to our administrators. It will not appear on Virgin Money Giving's web site.
Donation - £30 for each child you are paying subscriptions for
Message - enter your child's/children's name(s) and their section(s), e.g. Beaver, Cub or Scout
Name - enter your name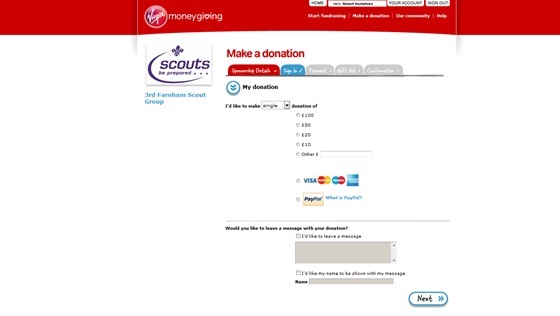 If you have any concerns or queries please send us a message by selecting Subscriptions on the contact us page.